Psychosocial Specialty Training
For Medical Students and Practitioners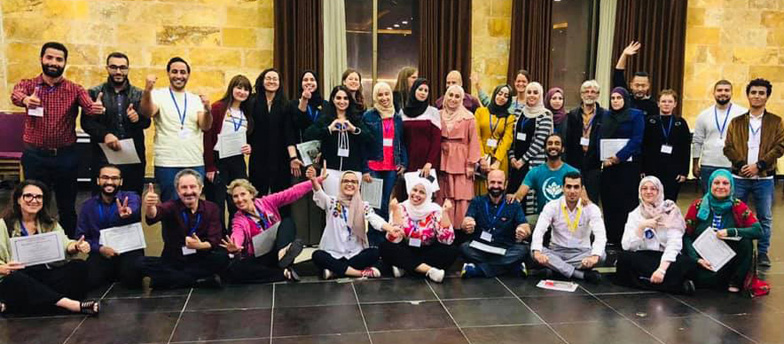 Conducted and Sponsored by:

Common Bond Institute (CBI),
Michigan State University Department of Psychiatry (MSU),
and International Humanistic Psychology Association (IHPA)
The Psychosocial Specialty Training (PST) is a practical training program, in close partnership with Jordanian medical schools and Michigan State University Department of Psychiatry, to prepare local medical practitioners with skills ranging from basic psychosocial evaluation and interventions skills for general practitioners to higher level psychiatric specialty skills that can benefit vulnerable populations in their society.
• Providing Professional training in psychosocial skills, oriented to local medical practitioners in Jordan, for the benefit of increasing and sustaining the availability and quality of skilled health care services and aiding practitioners in better serving critical psychosocial needs of the local population.
• Promoting the development of professional mental health service disciplines in Jordan.
Treatment emphasis is whole-person and person-centered, based on a psycho-social-bio-spiritual approach, utilizing a broad spectrum of methods including counseling and psychotherapy.
Training provides aptitude in understanding mental health concepts and symptoms (including issues such as trauma, PTSD, mood disorders, suicidal ideation, regression, alienation, addictions, family conflict, disruptive behavior in children, etc.), conducting assessments and treatment planning, using practical skills in a variety of psychosocial support and treatment interventions, and utilizing an interdisciplinary mental health approach. Also indicated are self-help/burn-out prevention and coping skills, such as stress management for practitioners dealing with exceptional stressful situations.
Trainings are organized into medical school curriculum components, and regularly conducted through an integrated combination of:
• periodic on-site training intensives,
• on-site field work experience in Jordan,
• on-going weekly interactive virtual training sessions,
• an annual psychosocial training conference in Jordan,
• and assigned materials and tasks.
Medical students and practitioners in Jordan: including both those focused on general medical practice and specialties, as well as those planning to specialize in psychiatry.
• Level 1: Adjunct to general medical trainingThis initial training level is suitable for all medical students and provides a general introduction to and understanding of mental health concepts and symptoms. It is meant to equip medical practitioners with basic skills and proficiency needed to adequately identify and address patients presenting with either combined medical and mental health symptoms and issues, or with mental health issues presented as physical symptoms, to offer helpful support and interventions, and to determine when referral for more expert psychosocial treatment is indicated.
• Level 2: Psychiatric specialty
• Those specializing in psychiatry continue to receive longer term, more advanced training, including possibilities for further study and observation placement at MSU Department of Psychiatry, in preparation for future formal internships.
• Officially designated as a formal Professional Certificate Program of Common Bond Institute, Michigan State Univ. Dept. of Psychiatry, and International Humanistic Psychology Association.
• This certified training content is comparable to the same quality training in mental health provided to MSU medical students in the US, and is incorporated into the local medical school curriculums.
Criteria for Receiving Certification:
Completion of a predetermined minimum number of sessions and assignments, leading to passing an evaluation by the training faculty of learned material and skill proficiency. Certificates are issued at completion of each semester. Each additional semester registered for and satisfactorily completed achieves a higher level certificate.
Required Activities Involve Participation In:
• Presentations of psycho-social theory, models, and methods – provided through both on-site sessions in Jordan and live virtual sessions.
• Practical skills training in psychosocial assessment and treatment – provided through both on-site sessions in Jordan and live virtual sessions.
• Supervised practical field work in Jordan practicing learned skills.
• The Annual International Conference on Transgenerational Trauma, a professional training conference held each year in Amman, sponsored by CBI, MSU, and IHPA.
• Weekly virtual training and consultation clinics with the MSU Dept. of Psychiatry.
• Assigned didactic studies, readings, and recorded materials.
Expert mental health practitioners and professors from the faculties of CBI, MSU, and IHPA
Local Partner Institutions Receiving The Certificate Program:
Jordanian Medical Schools have entered into an official partnership agreement with CBI, MSU, & IHPA to include this training within their program of study.
• Student Exchange: Opportunities for selected Jordanian medical school students specializing in psychiatry to be considered for study placements with MSU Dept. of Psychiatry.
• Joint Research opportunities where applicable
• Access to professional Training And Reference Resources,
• On-going mentorship support for medical students and graduates by training faculty.
• Other joint activities as mutually explored and developed
Held in conjunction with:
• Annual International Conference on Transgenerational Trauma
• Transgenerational Trauma Research Network
• International Journal of Communal and Transgenerational Trauma
_____________________________________
~ PLEASE DONATE ~
to Support Our Humanitarian Services
Make a Tax Deductible Contribution in support of providing these critical services to refugees through our 501(c)3 nonprofit partner organization: International Humanistic Psychology Association (IHPA)
GlobalGiving vetted Organization since 2015

For further details Contact:
Steve Olweean, Director
Common Bond Institute
Email: SOlweean@aol.com / Ph: 1-269-665-9393  
Web: www.cbiworld.org